How AUGUR
Cyber Threat Intelligence
Predicts And Stops Attacks Before They Happen
Augur cyber threat intelligence and cybersecurity solutions detects the buildup of cybercriminal infrastructure online before attack launch. The behavior of infrastructure acquisition and setup is both systematic and characteristic.
By profiling and modelling these behavioral patterns, Augur creates attack profiles that include all the infrastructure associated with these threat actors and stop their attacks and threats before they launch them.
Our Predictive Threat Intelligence Platform, AUGUR,
is a Gamechanger!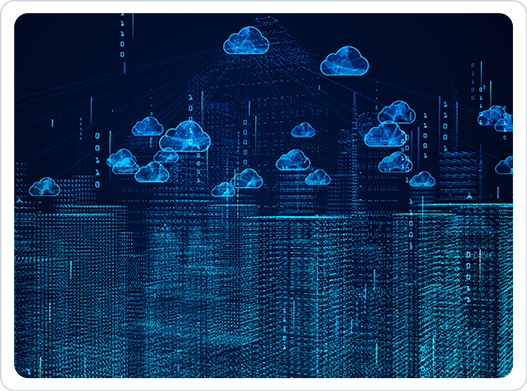 Most cyber solution providers alert you through conventional TIPs about threats when they launch and are already knocking at your network door or inside your network! Augur prevents this! How? It uses characteristics of threat actors and create adversary profiles wherever they are around the globe.
Augur then identifies the build up of attack infrastructure and predicts and prevent attacks with amazing accuracy before they launch. These predictions are fed to your SIEM or MSSP via our integrations to automate blocking instantly.
Conquer Alert Overload
Even with all the great solutions out there, today's SOC teams are overwhelmed by what our clients call Alert Overload. Attacks and compromises come fast and furious and the alerts pile up with little or no time to evaluate and respond. Augur changes all that. Here's how:
Predicts Attacks Before They Happen
Most TIPs only identify threats that are already knocking at your door. Using advanced behavioral profiling and machine learning, Augur builds threat profiles and predicts attacks, on average, 51 days before they start hitting your network. Augur also identifies all attack vectors associated with those threat profiles, that means we catch threats other TIPs may not.
Blocks Attacks Automatically
Conventional TIPs produce alerts. Your team has to evaluate those alerts and decide which ones to act on. Augur automates this process integrating directly with most major network platforms and adjusting your security posture to block any attacks from the threat profiles we've identified.
Streamline Operations, Saving Time & Money
Conventional TIPs produce alerts. Your team has to evaluate those alerts and decide which ones to act on. Augur automates this process – integrating directly with most major network platforms and adjusting your security posture to block any attacks from the threat profiles we've identified.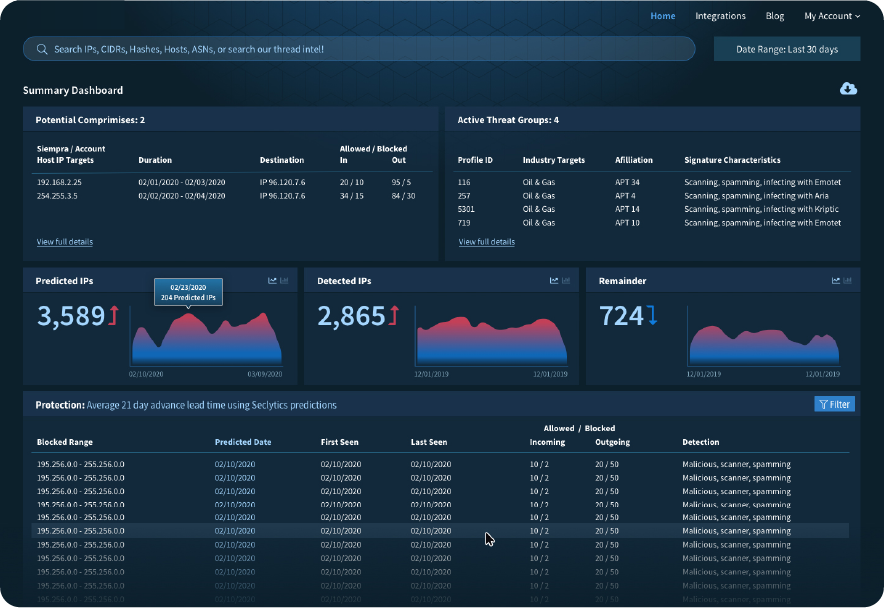 Find More Threats. Find Them Earlier. Block Them Before They Attack
Augur builds and monitors a pool of more than 10k adversary profiles, with new profiles identified daily.
Augur identifies threats before day zero and levels the playing field by removing the element of surprise before attacks are launched.
Augur discovers and protects against more potential threats than conventional TIPs.
Don't Alert! Automate!
Automation of security processes is one of the key components of cyber resiliency (Ponemon Institute 2019).
Augur integrates directly with major security solutions and automates adjustments to firewalls, web proxies, Endpoint Detection and Response (EDR) systems, DNS servers, and Email gateways, improving cyber resiliency.
Augur improves your SOCs operational efficiency by eliminating Alert Overload.
How We Help Our Clients Solve Their Cyber Security
Problems Like No Other
Alert Overload
Challenge
Our client in the energy industry had a 20 person SOC team. Even so, they could not keep up with the stream of noisy security alerts.
Solution
Augur solved their alert overload by prioritizing incidents and automating the blocking of IOCs.
Results
Identified new 3,000+ threat actor profiles targeting the organization.
Prioritized incidents and reduced alerts by 70%.
Increased operational efficiency of the Incident Response Team by 50%.

High Cost Of Cyber Security
Challenge
Our client's SOC in the oil and gas industry was sifting through high number of alerts and false positives because of noisy threat intel from other TIPs increasing risk of missing important alerts.
Solution
Our client benchmarked Augur vs. other incumbent TIPs and threat intel sources and found it provided the best accuracy, coverage, and value. And because Augur produces organization specific threat intelligence it reduces volume of alerts.
Results
Augur is now the sole threat intelligence platform integrated into client's SIEM.
Licensing costs were reduced by 60% and allowed the client to streamline their SOC.
Automation
Challenge
Our client in the financial industry needed to add threat prediction and contextualization to their MSSP because their security team had no time for threat hunting and investigation.
Solution
Our client's MSSP integrated Augur to their SIEM and firewall allowing for predictive identification of threats and proactive blocking with high accuracy and zero intervention.
Results
Augur improved overall security performance and decreased risk.
Cost was less than 50% of hiring an internal threat hunting team.
7 Reasons to Make Augur Part of Your
Security Ecosystem
Predictive Threat Detection & Prevention
Allows Augur to adjust your security posture ahead of attacks, minimizing risk of costly errors or oversights, and stopping any attack before launch.
Adversary profiling
Building aggressor profiles means that all potential threats associated with an attacker can be identified and blocked before launch and that means improved overall catch rates vs. conventional TIPs.
Automated blocking
Augur's automation features streamline threat response significantly lowering risk vs. manual blocking and enhancing cyber resilience.
Graphic Dashboard
The dashboard provides real-time visibility and metrics on how Augur is keeping your network safe and allows you to easily communicate that value to the C-level.
Zero footprint
SaaS-based model means we do all the heavy lifting in the cloud and there is no additional infrastructure burden for you.
Set and forget
No alerts to respond to, no updates to follow-up on, no patches to install, just outstanding protection.
Improved operational efficiency means fast ROI
Augur pays for itself just in the man-hours saved by eliminating alert triage and response – allowing your SOC team to focus on bigger issues.
Very easy to integrate into your security settings,
through API only!
Augur generates open internet threat profiles in the cloud
We send these profiles to your SIEM to determine which profiles actively target you
Augur integrates with your SIEM to provide a single pane of glass for enhanced triage and reporting
We also correlate information from the SIEM with our intelligence and send it to our Attack Prediction Platform to generate customized threat predictions specifically based on your internet traffic
Augur then integrates with your Firewalls, EDR, Web proxies, Email, DNS and cloud providers to push block lists based on these predictions and automate enforcement